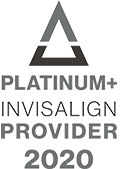 INVISALIGN REQUIRES SIGNIFICANT PATIENT COMPLIANCE... HELP US HELP YOU!
You must wear aligners 20 hours per day!
Aligners must be worn at all times except when you are eating or brushing teeth.
Your treatment will not progress if aligners are not worn exactly as prescribed... 20 HOURS A DAY.
Avoid hot and/or colored drinks while wearing aligners to avoid warping and staining. You may drink other beverages while wearing them.
HOW TO CLEAN
Use luke warm water along with antibacterial soap or Dawn dishwashing liquid.
Do not use toothbrush and toothpaste.
MAKING SURE YOUR ALIGNERS ARE TRACKING
You must wear your aligners AT LEAST 20 hours every day... or they won't work! Worse, wearing your aligners fewer than 20 hours a day can result in unwanted displacement of your teeth which can create a worsened bite misaligning your teeth further.
During each appointment, Dr. Turner will monitor tooth movement by how each aligner is "tracking." • Each time you come in to an appointment, your aligner tray MUST fit properly.
CHECK YOUR ALIGNERS' FIT BEFORE SWITCHING TO THE NEXT TRAY
Your aligners are fitting well when they fit completely over your teeth. There should be no visible gaps between the edge of your teeth and the tray. Aligners do not rock but are completely fixed. All attachments are engaged properly. When you are finished wearing your current tray it should "fit like a glove."
If your aligner is not fitting well, use "chewies" or bite sticks to seat the tray better. Work on loose areas when you insert the next tray.
If the aligner is not fitting at all, try the previous, better fitting tray. This is NOT common and happens when trays are not worn as prescribed. Contact our office immediately, and bring the tray that fits as well as the next tray.
HOW TO USE "CHEWIES"
Chewies are aligner tray seaters you will use with each new set of aligners in order to aid poor fitting areas adapt to your teeth. Simply place the chewie between your teeth and bite down for at least 5 seconds before releasing.
If necessary, repeat the process to ensure your aligners are well-seated over your teeth. You can wash the chewies after each use with mild soap and water and reuse them until they lose their elasticity.
If you feel there is an area or tooth that is not fitting the trays, do additional chewie exercises there. Dr. Turner recommends using chewies with each new set of aligners as they will guide the aligners to seat well on your teeth and achieve the best possible tooth movement. You may purchase additional chewies online.
Taking good care of your aligners is important to both your oral health and the success of your orthodontic treatment. Without properly cleaning your aligners and teeth, the aligners can trap bacteria underneath them, putting your teeth at risk of decay. Here are a few simple tips for taking care of Invisalign® aligners:
Brush your teeth before putting aligners on.
Periodically soak your aligners in a glass of water with a denture cleaning tablet. This will help provide a deep cleaning for the aligners.
To make the aligners easier to put on, try using chewies: small rubber tubes that patients can bite down on to help seat the aligners.
Create a small Invisalign® care kit complete with everything you need to care for your teeth and aligners, then carry this with you throughout the day. This will make it easier to care for your aligners while not at home.